Part 4 of our ABC's of Toddler Crafts and were focusing on letters P to T. Check out Part 1 of Toddler Crafts Letters A to E, Part 2 letters F to J and Part 3 Letters K to O. Return tomorrow for the last in the series of ABC's of Toddler Crafts with letters U to Z. So here goes
P is for Printing, Paint and Potatoes
Okay so it's the first letter with lots and lots of things but Potato Printing with Paint is such a fun activity – to make it easier for little hands to hold the potatoes cut a handle into the curved surface to make it easier to use. We made Snowmen and Tree Thank you Cards last year using potatoes. We've also printed with apples and toys which are equally as fun.
Q is for Queens Crowns
How you decorate them is up to you – it doesn't have a to be a Queen's crown it could be a King's, but as we created ours for the jubilee celebrations in 2011 ours was fit for a Queen. An easy toddler crafts – card, and bits and bobs you can create something to add to the dressing up box for a while and all done with the toddlers hands.
R is for Rolled Art
Have you tried it – a cardboard box some paper/card and something that rolls inside it with paint or glue then roll and shake the box, we made fireworks back in the Autumn with some conkers rolled around as a Guest post over on The Educators Spin On It.
S is for Salt Dough
Salt dough is a great homemade clay like dough which can be baked and then painted, we've made salt dough decorations, place names for the table, dinosaurs and what's more using our quickest ever salt dough recipe instead of waiting for the normal 3+ hours for it to cook in the over an essential of toddler crafts is that it's quick it can take from 2 to 4 minutes depending on how thick your salt dough is.
T is for  Tissue Paper
Yes I mentioned it as a Crafting Equipment essential way back in Part 1 of the ABC's of Toddler Crafts but Tissue Paper is fabulous – we've used it to create stained glass windows for Small Hands Creating Hope, and Mondrian inspired window, it's been used to make Santa's Hat when scrunched up and we've also used it to decorate a Winter Themed Tea Light Holder. You can also produce pictures with the colours from tissue paper as placed on paper with some water the colour bleeds off – check out this post from The Imagination Tree.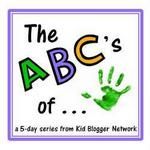 The Kid Blogger Network is joining together this week to bring you all the ABC's you will ever need for parenting, play, creating, exploring and learning fun from Babies to Adults. Click on the image above to find all the great bloggers joining in as well as check out the other 10 Creative bloggers sharing Crafty, Creative and Arty ideas for you and your kids.
Coming tomorrow U to Z of Toddler Crafts
The following two tabs change content below.
Cerys is a marine biologist, environmental educator, high school teacher and mum. Realising that life doesn't have to be put on hold and you don't just have to survive whilst the kids are young she shares ideas to inspire you to LIVE with the kids, with activities to do together, recipes to cook and enjoy and family travel to make memories to last a lifetime.
Latest posts by Cerys Parker (see all)