All this week on Rainy Day Mum I will be bring you the ABC's of Toddler Crafts from Abstract Painting to Zebra Skins and every letter in between from Monday to Friday check back each day to find inspiration and tips on Toddler Crafts to get creative, have time to connect and have fun with your crafty toddlers.
No mater how old your toddler is whether just turing 1 or almost 3 and heading into preschool years there will be ideas to get them crafting and make it easier for you as well.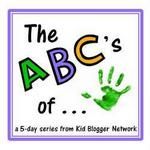 The bloggers of the Kid Blogger Network are bringing you the ABC's of all things Parenting, Play, Crafts, Learning and Exploring check out all the different topics that are being covered by clicking on the image above. I'm being joined in the arts and crafts category by 10 other bloggers to bring you Creative inspiration check out their posts below throughout the week.
What would you include in an ABC of Toddler Crafts? Remember to check back over the next 5 days to find out if I've got it in the lists
The following two tabs change content below.
Cerys is a marine biologist, environmental educator, high school teacher and mum. Realising that life doesn't have to be put on hold and you don't just have to survive whilst the kids are young she shares ideas to inspire you to LIVE with the kids, with activities to do together, recipes to cook and enjoy and family travel to make memories to last a lifetime.
Latest posts by Cerys Parker (see all)