On Friday 27th July the Olympic Games comes to London and it's a time to celebrate. The Olympics is such an important part of growing up (well it was at least for our family – and I don't consider myself particularly sporty) but I can remember every four years getting excited about the games as a child, my parents holding us mini games in the garden and the school putting on various events.
As a blogger who writes about kids activities this is such an exciting time – made even more exciting that with Angeliquefelix.com and Sun Hats and Wellie Boots were are leading a 18 day long celebration of the Olympic games with a whole host of other bloggers around the world bringing you activities, ideas and information about different areas of the games as well as co-hosting a linky for you to come and link up any Sporting posts that you may have.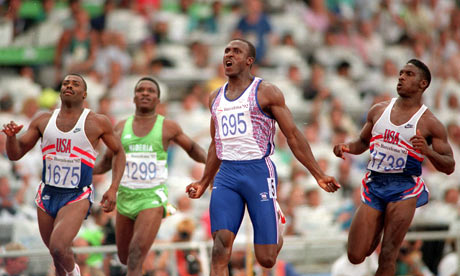 Creating memories is what childhood is all about – and the Olympics is something that I remember well – I remember watching Linford Christie win the 100m Sprint in 1992 and Torvill and Dean's Bolero in the Winter Olympics of 1984 more recently I think about the UK rowers and their amazing success in the games and the records that are set and broken each time.
Enter your name and email address below to Join Now!
I asked some of the other cohost what their Olympic Memories were from childhood and here they are:
My best memory was seeing Ben Johnson run, win and loose at the same time and super fast Carl Lewis giving me goosebumps for his speed. BUT the very best memory giving me tears was Mohammad Ali bringing the flame, Parkinson's patient…
My earliest Olympic memory would have to be watching Gaetan Boucher speed skating, outdoors, with the snow falling in Sarajevo in 1984. I was about 10 years old at that time. He won many medals at those Olympics and I know this was where my love of skating was born.
Its not a very specific memory, but must have been the 1988 games, I was 4 years old and I remember us all watching the athletics together one Sunday morning, must have been lynford christie! It was always very important in my family, and it still feels like such an important event now.
My best memory was when Roger Black came round our Junior School and we got to see his medals. I wasn't hugely into sport but I did understand what a big deal he was and felt a part of something really special
It was always just a big deal in our house. I'd constantly watch the gymnastics all day long as a little girl. Dreaming to do that kind of stuff. As I got older and into running, I watched the track events the entire time… I can't come up with a specific event for the summer Olympics… I really remember the Tanya Harding/Nancy Kerrigan fiasco in the winter Olympics ice skating…
I remember being very fond of Peekboo Street. I love her name,I loved how cool and unique she seemed and of course I loved her skiing
Living Montessori Now and Raising Figure Skaters
I actually don't have Olympic memories from my childhood. I wasn't interested in sports, and the Olympics weren't emphasized in the rural community where I grew up. My husband didn't watch the Olympics as a child, either. When our kids were little, we didn't watch television. Our kids fell in love with skiing at a young age, but it wasn't until after the 1994 Winter Olympics that we became interested in watching Olympic-level skiing events.
Our kids started figure skating in 1996, and we watched the Olympics from 1998 on. Who would think we'd end up with two international competitive skaters, one an Olympic-level ice dancer?! Our daughter competed for Great Britain but without British citizenship … so she was able to compete at Worlds but didn't have a chance to compete at the Olympics. But, thanks to following my kids' interests, I do appreciate many sports and love to watch both the Winter Olympics and Summer Olympics now.
I especially remember watching the 1996 Summer Olympics held in Atlanta, Georgia. My dad was stationed in Louisiana for his last tour before retiring. Instead of moving to Louisiana with him, we moved back to Missouri so I could start and finish high school at the same school. My mom, sister, brother, and I visited my dad for a month in the summer. It rained the entire time we were there, so we rarely got to go outside to play or anything. My sister and I enjoyed watching the Olympics. Our favorite was the gymnastics. Whenever we think of the Olympics, my sister and I always talk about that summer in Louisiana.
I remember the year that FloJo won the running my sister and I painted our nails like her – do you remember she used to have the coolest fingernails.
I loved watching the Olympics as a child. I was obsessed with gymnastics and swimming (and still am!), and vividly remember when Greg Louganis hit his head on the diving board. I also attended the 1996 Olympics, just 2 weeks after having major surgery and had to get special permission from my dreams to attend, since I was supposed to have been on bedrest.
It was a big deal watching the 100m. We all at school would talk endlessly about who we thought would win. My brother got the autograph of Carl Lewis at the airport. I was sent after him ( you know wondering off brothers). It was so cool. He breezed in and off so quickly. No one noticed.
The runners seem to fly around the track. I remember thinking they looked like they were floating
I remember watching the 1992 summer Olympics at my grandparents' house. I was a huge fan of the gymnasts, especially, but the sprinters were a close second.
I didn't get to see the 1992 winter Olympics as we had no television, but my dad went on a site visit for work (we lived in France) and brought me back a small Olympic pin that I adored. Figure skating was always my favorite part of the winter Olympics.
I also loved the opening ceremonies where everyone walked in carrying their country's flag. My brothers and sisters and I liked to see how many of the flags we could identify.
I always remember watching the Gymnastic with my parents. It was always time we spent together. It was fun to watch every time.
I have great memories watching the gymnastic events with my twin sister. We'd vote for our favorites, eat treats, and tumble around pretending we were Mary Lou Retton.
I lived in NY when the winter Olympics came to Lake Placid! It was very cool for us as we had visited the city before and knew some of the places on TV. My Dad actually got tickets to go see some of the events and brought me back a set of the US stamps for the Olympics for my stamp collection – and I still have the stamps today 🙂
My cousin, best friend, and I would watch the synchronized swimming and then try to replicate it at the pool.
The Educators Spin On It – Kim
I remember how excited I was when I learned how to play the Olympic theme song on my piano as a kid!! I have fond memories of watching with my sister and parents and thinking how incredibly talented all the athletes are. I think the Olympics help show a little girl how much fun sports can really be! I'm sure we all pretended to be Mary Lou Rettin, Steffi Graf, Mia Hamm, Dorothy Hamill at some time in our childhoods.
I love the Olympics because they bring back the memory of sitting on the couch with my Mom cheering on Team USA. It wasn't just the great athletes and sports, it was the time with my Mom that made the Olympics the best!
I remember watching the 1996 Gymnastics every second I got. Shannon Miller was my favorite and they did an interview with her that I still remember. I loved the 1996 Gymnastics team!
I confess, my memories are non existent.. which is why I want to make it memorable for my kids!
Please come back tomorrow when I will be sharing our winners medals to help you celebrate the games and passing on the torch to Living Montessori Now.
Also check out the cohosts and see what they will be doing over the Olympic celebrations
Montessori Tidbits http://www.montessoritidbits.com/
Reading Confetti http://www.readingconfetti.com/
Kitchen Counter Chronicles http://www.kitchencounterchronicle.com/
Domestic Goddesque http://www.domesticgoddesque.com/
Nurturestore http://nurturestore.co.uk/
hands on : as we grow – http://handsonaswegrow.com/
Creative Family Fun – http://creativefamilyfun.net/
Here come the girls http://www.herecomethegirlsblog.com/
Living At The Whiteheads Zoo http://livingatthewhiteheadszoo.blogspot.com/
Let Children Play http://letchildrenplay.com/
Living Montessori Now http://LivingMontessoriNow.com/ and Raising Figure Skaters http://RaisingFigureSkaters.com/
JDaniel4's Mom http://www.jdaniel4smom.com/
Royal Baloo http://www.royalbaloo.com/
Inspiration Laboratories http://inspirationlaboratories.com/
Toddler Approved http://toddlerapproved.com/
Creative Playhouse http://www.creativeplayhouse.mumsinjersey.co.uk/
Train Up a Child http://trainupachildlearnaswego.blogspot.com/
Sun Hats and Wellie Boots http://www.sunhatsandwellieboots.com/
Teach Preschool http://www.teachpreschool.org/
The Iowa Farmer's Wife http://theiowafarmerswife.com/
The Fairy and The Frog http://thefairyandthefrog.blogspot.co.uk/
What memories do you have of the Games from your own childhoods?