Delicious Family Camping Recipes for your First Family Camping Trip
There is nothing better than food cooked over the campfire and when we look for campsites now we try and find ones that let you have a campfire so that the kids can experience real Camp Food Recipes. I'll tell you a secret they are also perfect to cook on the fire at home on a summers evening and on the BBQ grill. There are so many to choose from but I wanted to share with you some of the top ones that we love as a family to help you out this summer as you head off camping your self. So here they are delicious camping recipes for your next family camping trip.
Camping Breakfast Ideas
These Campfire Pies from Andrea Meyers although technically a "sandwich" remind me a little of easy pop tarts and are perfect to make don't have a sandwich irons then you could make them in tin foil and I'm pretty sure that they would taste just as good.
With a bit of forethought (mix your vanilla and milk ahead of time) you and your family can enjoy fresh French Toast on the Campfire with this recipe from This Lil Piglet. I don't know whether I would make it every breakfast but on the first morning of camping, it would be a delicious treat for the whole family.
Another make-ahead meal for camping – don't forget to put them in your cool box sealed up tight though so that they stay cool especially in hot tents. But these Breakfast Burritos from Taste and Tell fill you up for the day ahead and the campfire in the morning – will be perfect to get rid of that chill first thing as well.
Main Meals for Camping
Prep ahead meals are great for camping and it can save you a lot of hassle and washing up this Camping Mac and Cheese from Lauren's Latest is perfect. Make 4 small portions of these following the instructions and how to store them for your camping trip and then cook them on the coals at the campsite. Perfect delicious camping food that will fill up the kids and is easy to prepare. Plus… the cooking equipment – disposable at the end of the meal!
If you can cook it in foil you can cook it on the campfire and these Bacon Ranch Grilled Potatoes from Gather for Bread work just as well on the campfire as they do on the BBQ. We skipped the parsley and added some italian dried herbs instead as it's on of the ingredients that I always pack to head camping with us.
If you can get hold of some chicken whilst camping then these Southwestern Chicken Parcels from Dessert Now Dinner Later are perfect for everyone to enjoy.
Camp Fire Sides
Pair this with a dip and you have the perfect campfire side dish or treat for the family to enjoy these Campfire Breadsticks from Shock Munch are easy to make and taste amazing. If you use our Easy Bread Dough Recipe just leave out the water and add that at the campsite and you have the perfect easy to use dough for these breadsticks cooked over the coals.
Camping Dessert Recipes
The first is a recipe that I remember making at girl guide camp back when I was a teen. We would wrap our bananas in foil and place them in the embers after cooking out meals and in no time at all, they would be perfect and make the best desserts. If you only make one recipe next camping trip them try these Banana Boats from KQED Food.
The Banana boats above can be a little bit messy so these Campfire Cones from Come Together Kids are ideal and they don't take much to make. You could use them in the fire pit at home or on the BBQ as well.
I don't know whether popcorn would actually be considered a dessert but I would certainly eat it for dessert and this Campfire Popcorn from Rada Cutlery is perfect and works great for the BBQ as well.
Why not pack a cake mix box and make some Brownie Oranges in the fire like this recipe from Camping with Gus. You get to eat the oranges and then everyone gets a delicious cake cooked in the coals. Perfect for Dessert before heading off to sleep under the stars.
Looking for More Inspiration for Camping Recipes Ideal for Families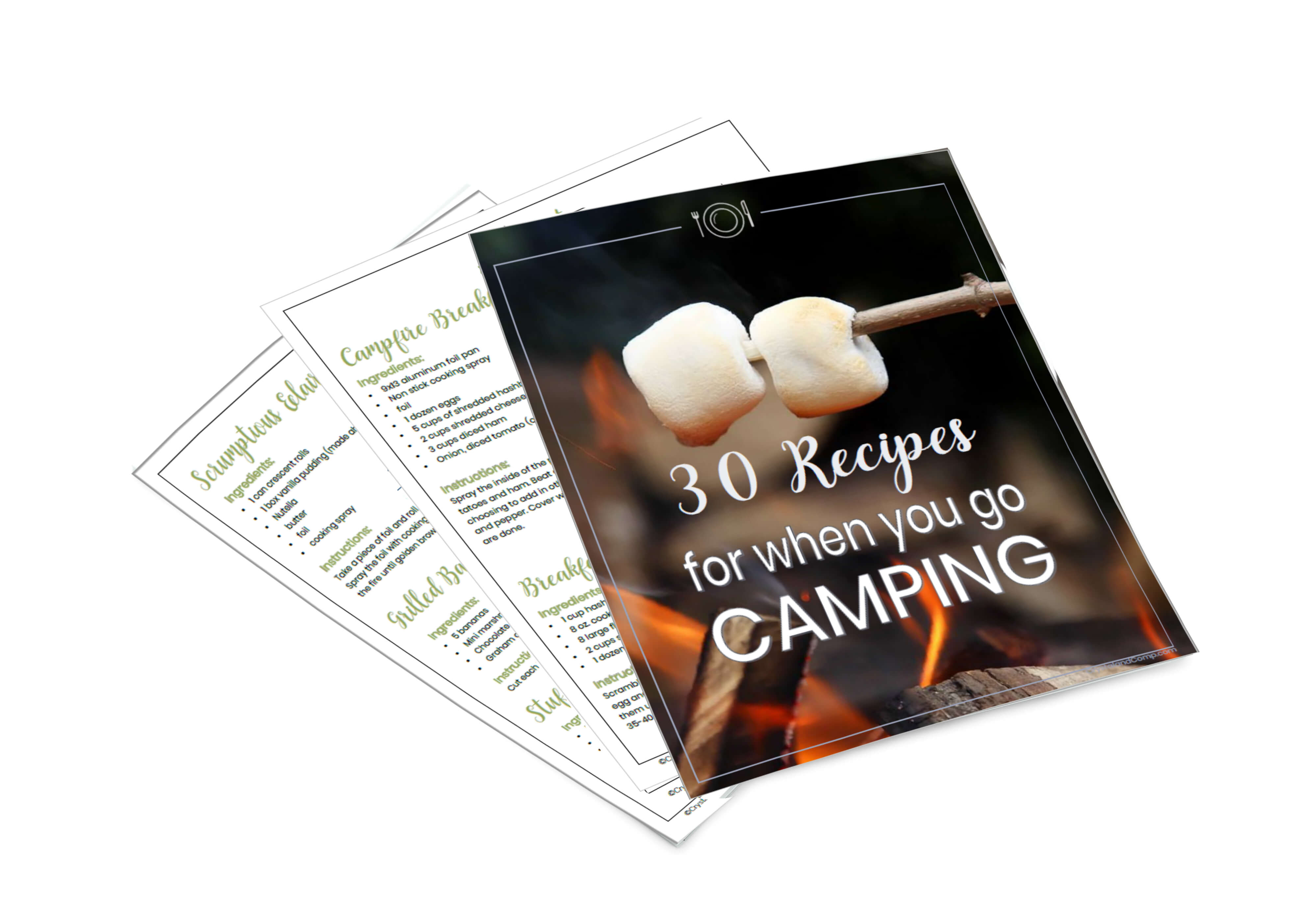 If you are going away for an extended time or looking for more inspiration then this
30 Recipe for Camping Ebook
is my favourite resource. As you get it to download you can then print off laminate and make your own little recipe cards to use whilst you are camping and want some ideas for hearty homecooked meals for the whole family to enjoy.
We've been trying the recipes on the BBQ and in our fire pit this summer and they are delicious – our family favourite the Stuffed Potatoes. Although it was hard to choose.
More Camping Inspiration for Families
What to do on a Rainy Day Whilst Camping in a Tent
How to Survive Camping with Kids
Your Essential Packing List for Camping as a Family
Pin These Campfire Recipes you Can Really Cook to Make Later
Share These Delicious Camping Recipes with Others on Facebook
Cerys is a marine biologist, environmental educator, teacher, mum, and home educator from the UK. She loves getting creative, whether it is with simple and easy crafts and ideas, activities to make learning fun, or delicious recipes that you and your kids can cook together you'll find them all shared here on Rainy Day Mum.