This is the last part of the ABC's of Toddler Crafts, check out Part 1 Abstract Painting to Exploring Artists, Part 2 Finger Painting to Junk, Part 3 Knights to Outdoor Crafting and Part 4 Printing, Paint and Potatoes to Tissue Paper, today it's the last part of the alphabet U to Z so check out these ABC's of Toddler Crafts and then get crafting inspired by the 26+ different ideas we've shared over our ABC's of Toddler Crafts
U is for Under the Waves Crafts
Children are fascinated by what lives below the waves so any craft that you can do around that is fabulous for them. We had a lot of fun making some paper plate Jellyfish/Octopus as well as making Paper Plate Fish and Rainbow Fish Hand Prints. Or how about taking it to a full scale and creating an aquarium like this one from Learn with Play At Home.
V is for Very Messy
You have to expect it, the paint will go EVERYWHERE I've got T out of the high chair as a just over 1 year old and the paint was in her diaper – HOW I have no idea but it was there. It is going to get messy, that is why I love Outdoor Crafting (which is why it was our O in ABC's of Toddler Crafts) you can wash them down outside in the summer and in the winter, everything can be cleaned outside and it's not in the house. With some careful planning, overalls, messy mat, vinyl table protectors, bath ready it maybe messy but the mess can be contained.
W is for Waiting for things to dry
It's the hardest thing for Toddlers to get, projects that take time to dry before moving onto the next stage, so how do we stop and let it dry before continuing. I time crafts so that we can finish them at around snack time, lunch time, dinner time, play outdoor time you get the idea. The incentive to leave what they are doing, get clean and move onto something that won't be as messy (messy=fun) needs to be good – food, play outside, a fun bath (check out these ideas from Bath Activities for Kids for inspiration) usually work for us and reduce the tantrums, things then can be put to dry and when they are dry we can come back to them and finish them off.
X is for Xmas
OK so I have taken some liberty here as the only other X's I could think of was X Ray and Xylophone which really wouldn't work for toddler crafts. But Xmas/Christmas is perfect for toddler crafting, you can create ornaments for the tree, letter to santa, collages, snowmen, wreaths, cards basically what ever you want and it provides the perfect opportunity to get out the Glitter.
Y is for Yellow – or any other colour
Being a toddler means that colours are amazing – we did mess free colour mixing in zip lock bags, painting, crayons, pens (J loves colouring the tips of pens with a different colour pen to make new colours!). The joy of a toddler as well is that once they have learnt their colours and crafting with them will help a frog can be pink, an elephant yellow and you could be green with pink dots all over you.
Z is for Zebra Skin Making
Our last letter – it's a Zebra Skin Making (it also rhymes nicely with our Abstract Art Painting which kicked off the series). Yes we have actually made Zebra skin's and tiger skins, using torn paper they were great fun to make and something that we will do come the summer when in all likely hood J will have a Zoo themed birthday party.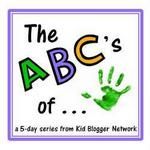 The Kid Blogger Network is joining together this week to bring you all the ABC's you will ever need for parenting, play, creating, exploring and learning fun from Babies to Adults. Click on the image above to find all the great bloggers joining in as well as check out the other 10 Creative bloggers sharing Crafty, Creative and Arty ideas for you and your kids.
 So there is my ABC's of Toddler Crafts – there are plenty more that I could have added but I would love to hear your suggestions