The second instalment of the ABC's of Toddler Crafts – check out yesterdays posts for Toddler Crafts ideas from A to E. Today I'm bring you F to J with Finger Painting Fun to Jigsaw Making.
F is for Finger Painting Fun
With both J and T finger painting was the first introduction to crafting whether it was using Finger Paints or our homemade recipe's for edible finger paints it's ideal for Toddlers to create crafts of their own. This idea from Hands on as we grow is one of my favourites and something that we have done with both J and T at various times.
G is for Glitter
It may get everywhere, you will find it in places that you wonder how on earth your toddler put it there but you can't deny that it lights up their eyes when the tub comes up. I think it's the way it sparkles and reflects the light that attracts them to it. Our Glitter hanging hearts are a lot of fun to make, whether it's Valentines or just to hang from a window to sparkle in the daylight and brighten up a room they are a perfect toddler craft.
H is for Handprints
Even without making it a craft your home is probably decorated with little handprints but how about turning them into something special – a rainbow fish maybe, or how about sending special cards to family members next Christmas. But don't stop there you can make some hand print salt dough ornaments to hang from the Christmas Tree or anything you want. Just pop onto Pinterest and search for Handprint crafts and there are literally hundreds of different possibilities.
I is for Independent Exploration
Crafts don't have to have an end product in sight, and it's often difficult to remember this instead of looking at the amazing toddler produced crafts on Pinterest that to every fabulous craft shown there are literally hundreds of bits and bobs that the toddlers produce and paint on, stick together that doesn't get shown. I'm one of those mum's I don't show everything that we make, just the bits that I think others would like to do, if I showed everything then I would never have time to do anything apart from write about them there are so many. So give you toddler the materials, prepare for the mess and let them independently explore crafts themselves. Good things to provide are
Shapped Sponges or even cut up potatoes and paint

Paint and different sized brushes and colours
Sticky Tape and bits and bobs
Glue and Bits and Bobs
Stickers and coloured paper
Junk, paint, sticky tape, glue and some paper
J is for Junk
Or more accurately bits that I have rescued from the recycling bin that are just "perfect" for toddler crafting – think egg cartons (to make ghosts, trains or frogs), Boxes (a wall for Humpty Dumpty), Cardboard Tubes (a log for the frogs, a space rocket, monsters – well just about anything you can think of) and every other bit of recycling can be used for their crafting fun.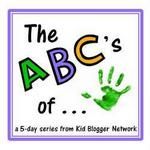 The Kid Blogger Network is joining together this week to bring you all the ABC's you will ever need for parenting, play, creating, exploring and learning fun from Babies to Adults. Click on the image above to find all the great bloggers joining in as well as check out the other 10 Creative bloggers sharing Crafty, Creative and Arty ideas for you and your kids.
The following two tabs change content below.
Cerys is a marine biologist, environmental educator, high school teacher and mum. Realising that life doesn't have to be put on hold and you don't just have to survive whilst the kids are young she shares ideas to inspire you to LIVE with the kids, with activities to do together, recipes to cook and enjoy and family travel to make memories to last a lifetime.
Latest posts by Cerys Parker (see all)