Crafting with Toddlers is an -ummmm- unique process and lots of fun, whether you call is toddler arts or toddler crafts it amounts to the same thing, getting creative, time to connect and most of all toddler time fun. To get you started why not check out my ABC of Toddler Crafts here's part 1 with Abstract Painting to Exploring the Great Artists for toddler crafts fun time.
A is for Abstract
Don't expect Toddler Art projects to look like what you would expect so our early toddler crafts I always label Abstract Art. It's fun and you can do it in a number of ways depending on the season and
B is for Butterfly
Do you remember creating these as a kid – folded paper blot print butterflies so easy to make and Toddler's love to unfold, we simplify but cutting out butterfly shapes already and then give a folded in half to make sure that the wings unfold evenly
C is for Craft Equipment
If you are new to toddler crafts or the mere thought of crafting with toddlers fills you with dread (Rainy Day Dad is one of those!) then making sure you have exactly what you need ready and easy to access is a great start – you don't need much to get you started –
Some brushes – sponge brushes, bristle brushes, big and small
Paper – different colours, textures and sizes,
Paints – buy the primary colours and black and white in ready mixed bottles
Glue – a glue stick and some PVA (white school glue)
Sticky Back Plastic/Contact Paper – you can craft with this easily without making any mess at all
Tissue Paper – apart from being tissue paper it can also be used to create some really interesting effects when painted with water and you can make stained glass windows and sun catchers with it
Bits and Bobs – anything that could be used to add texture, colour, variety to a piece of craft like pom poms, ribbon, buttons, sequins, cut outs from magazines, leaves, flowers you name it your toddler will find a use for it
D is for Drawing
Or as T likes to call it at the moment in her 21 month old little voice "Dawning Mummy", whether sitting at the table or taking art to the floor or under the table drawing is great for kids. We have crayons, pencils, pens and chalks that are easily accessible to the kids (pens and pencils they ask to use due to injuries incurred using them!). Mega doodles was one of the fun activities that we did as part of The Imagination Tree and Hands on As we Grow 30 days of Hands on Play and it's become a firm favourite in the house and so easy to set up.
E is for Exploring Art
Toddler craft encompasses art as well – to them it's all the same, and that's the way it should be when Red Ted Art started her Kids Get Arty link up back in the summer – a bi-monthly exploration of great artists with your kids I jumped right in with two feet. We've had lots of fun exploring art making some Mondrian Stained Glass Windows and paintings, Recreating Monet's Water Lilly Pond with wax resist painting, using dot markers to create a sunset like Roy Lichtenstein and drawing on the "ceiling" like Michelangelo – we're going to continue exploring the art this year and will be getting crafty with J and T.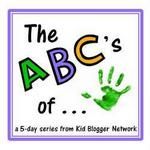 The Kid Blogger Network is joining together this week to bring you all the ABC's you will ever need for parenting, play, creating, exploring and learning fun from Babies to Adults. Click on the image above to find all the great bloggers joining in as well as check out the other 10 Creative bloggers sharing Crafty, Creative and Arty ideas for you and your kids.
The following two tabs change content below.
Cerys is a marine biologist, environmental educator, high school teacher and mum. Realising that life doesn't have to be put on hold and you don't just have to survive whilst the kids are young she shares ideas to inspire you to LIVE with the kids, with activities to do together, recipes to cook and enjoy and family travel to make memories to last a lifetime.
Latest posts by Cerys Parker (see all)