"In the childhood memories of every good cook, there's a large kitchen, a warm stove, a simmering pot and a mom."
Barbara Costikyan (10/22/84 New York Magazine)
Cooking with your children is fun and educational. Mostly we start off with sweet recipes and baking and as our children get older we move onto more savoury recipes that they learn to cook for themselves ready for when they fly the nest. However, this doesn't have to be the case and here are many fun recipes for toddlers and older chidren to cook, bake and mix with you.
First off – Thank you to Cats Yellow Days for showing me that in fact how our cooking goes is the norm and not that we are doing something 'wrong'. Here's to the reality of cooking with toddlers.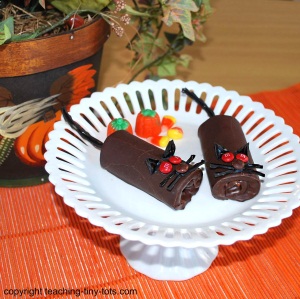 I love Teaching Tiny Tots no cook chocolate cats that they made for Halloween but would be great for any Nursery Rhyme Themed cooking with "Hey Diddle Diddle", "Pussy Cat Pussy Cat", "Three Little Kittens" and many more and because they are no cook they are an excellent way to introduce toddlers into recipes and food play. As well as this recipe there are many others on the site.
Over on Puddles and Gumboots there is a brilliant little cook Incy Wincy Spider cakes, these only involve melting some little chocolate which can be carried out in the microwave and then use this to adhere the legs. A great way to make another Nursery Rhyme Themed Bake project.
This post from The Outlaw Mom has a great story board of how cooking with a toddler goes. I love the idea of doing it all on the floor – but would seriously need to scrub the floor before we even attempted it as 2 children and a greyhound do not make for very clean kitchen floors. The Banana and Wheatbix muffins look delicious as well and combine 2 of J's favourites things.
Apart from the general thing with HOT stuff one of the biggest fears I have of cooking with J is the use of raw eggs especially with the amount that will be eaten. The Outlaw Mom has another great post for no egg cookie recipe that is different to our no egg cookie recipe which we use with J.
One of the tips I posted yesterday was for a visual recipe card Toddler Approved has done this and showed a typical toddler measuring card on the first day of Camp Cook when making Peanut Butter Boopers.
A lot of the recipes that we make with toddlers tend to be sweet but sometimes savoury recipes can be just as fun. Toddler Approved made Spaghetti Hot Dogs which look just like an Octopus. Incorporating an art activity while they cook is an excellent idea for avoiding the are they done yet and the temptation to look in the oven all the time.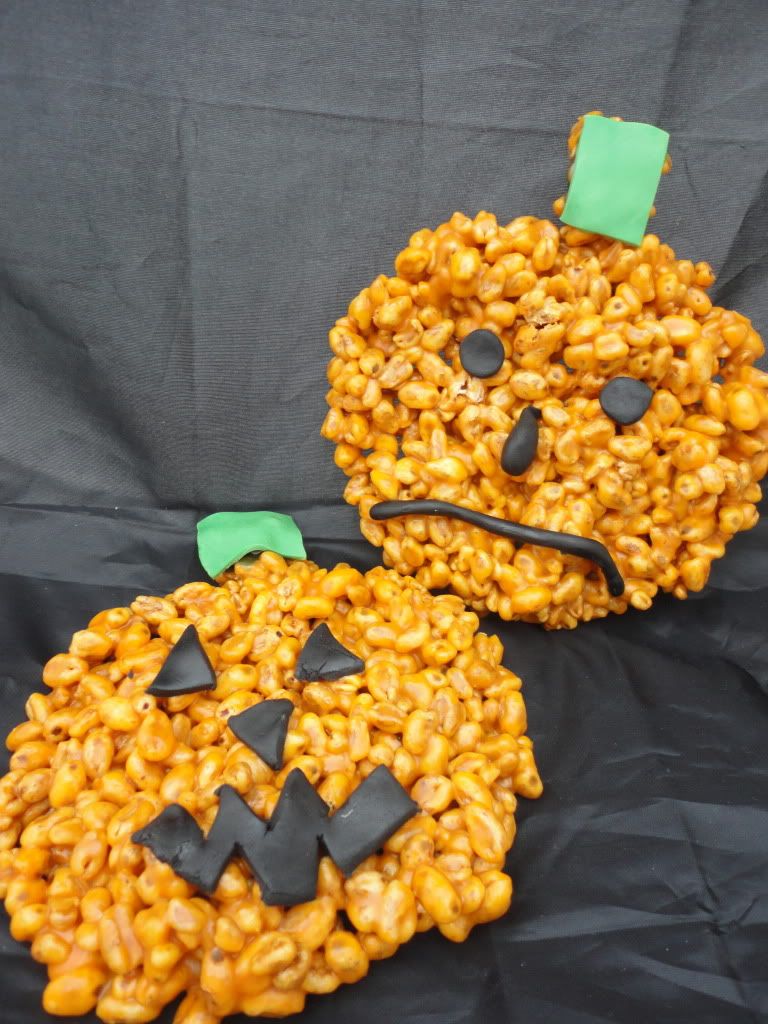 Although Halloween is now over these Orange button rice crispie pumpkin would make great Autumn themed baking and for my US readers Thanks Giving cakes. The Crazy Kitchen made these Spooky Pumpkin Crispy Cakes using Orange Buttons which I hadn't heard about until then but discovered then on the shelves of my local supermarket next to some pink ones as well.
The Crazy Kitchen again has a great link up and weekly posts a Cooking with Toddlers recipe, last week there was rainbow cookies in a jar which includes a giveaway for an Oat and Raisin Cookie Mix Jar.
Quirky Momma involves play with food regularly into her children's activities but also posted about how even a pre-schooler can cook. I love the fact that these were made for Mother's day and wish we had more of the baking stuff like Cinnamon rolls in a can that are used in this recipe in the UK (or if we have I'm yet to find them in the super markets near us).
Critters and crayons shows how even a complicated recipe can be adapted for cooking with children and pre-measures all the ingredients ready for her children to mix and bake with. In the Buttermilk cardamom Cake the ingredients are grouped together ready to mix as most toddlers/pre-schoolers find the mixing stage the most enjoyable with cooking.
Angelique Felix, The Magic of Play shows us how even something quite complicated like this Italian Salted fish can be carried out by toddlers.
The video above is from Angelique Felix and shows the fun of making easterbread.
Cooking doesn't always have to involve actual making an end product that you can eat instead toddlers love the "WHY" and "HOW" questions that can come up. I'm Blogging did a cooking week and one of the first things was about oil and water and the use of washing up liquid.
Red Ted Art has a great no raw egg rainbow cookie recipe and a link into a book. This is very similar to our recipe and I love the idea of the rainbow cookies as currently J is fascinated with rainbows (In fact he asked a question which Science Sparks answered on their facebook page for us recently).
Cooking with Toddlers doesn't always have to be the traditional making a cake or something that you would normally bake/cook/prepare. With winter coming and the possibility of snow how about making some snow ice cream (See the advice at the end of the post about snow collection it made me smile), thanks to Greening Sam & Avery.
One of the things that I find is that a lot of children's cookbooks are a little too in depth for Toddlers but loved that Creative with kids reviewed a pre-schooler cook book "Pretend Soup" which included pictures that even her 3 year old could follow. I'm now on the look out for the book to add to my extensive cookbook collection especially for J and T.
Cooking with your children is an educational experience you are helping them form positive relationships with food as well as learning essential life skills. Nurture Store has done a few posts on teaching about food, including Jam making, Cutting food for a salad, Breaking and eggs and ice lollies.
I have added more ideas  and recipes and will continue to do so on my collaborative Pinterest board "Cooking with Kids" you can follow me on the link below and find the board. I hope that you enjoy trying some of the finds above and it leads to many memories created in the kitchens as well as great cooks in the future.